Hi Funksters!
So, things have been hectic this past few months, with more gigs than we can even remember. We have met some awesome bands and, even better, we have met some awesome fans too, even on the nights we dressed as Power Rangers for Halloween! An experience that will have burned into your eyes for a long time to come I'm sure. Skin tight IS NOT a descriptive term to be taken lightly! :P
Peace in Chaos - Coming Early 2017
This month we have been getting ready to enter the studio and lay down what we hope will be the first of many sets of recordings. Yes that's right, THIS WEEKEND we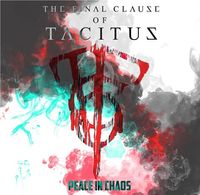 are venturing into territory not previously trodden by TFCoT, the strange and exotic land of sound engineers and headphones known more commonly as, 'The Recording Studio'
We are excited to get going, and even though we actually have 2 gigs during the recording schedule (we can't let you rest for too long :P) we are going to pour our heart and soul into getting a mini album together that we can be proud of, and hopefully that you will want to add to your music collections. Deleting all the other music and just having our songs there IS acceptable also!
Keep an eye out on our
Instagram
and
Facebook
for what will probably be varying embarrassing recording studio pictures and videos. We will keep you all up to date with the progress!
As always check out our
events page
to see where we are playing before Christmas. Knowing us I am SURE something a little crazy will happen in the gigs leading up to the festive period so these gigs are ones you definitely do not want to miss. We have tickets to hand for 4th December, 16th December and 23rd December, so be sure to let us know if you are coming so we can get a ticket out to you before the date!
We are also working our butts off on some new merch! It will be possible to pick up some extra Xmas gifts for all those secret TFCoT fans out there during Decembers gigs. Who wouldn't want to unwrap one of our T-Shirts on Christmas morning amongst the tinsel and baubles. More details will be up on
Facebook
and the
Store Page
here as soon as we have them about both the merch AND the mini album.
That's all for now folks, until next month stay funky, stay spunky and keep it TFCoT.
TFCoT